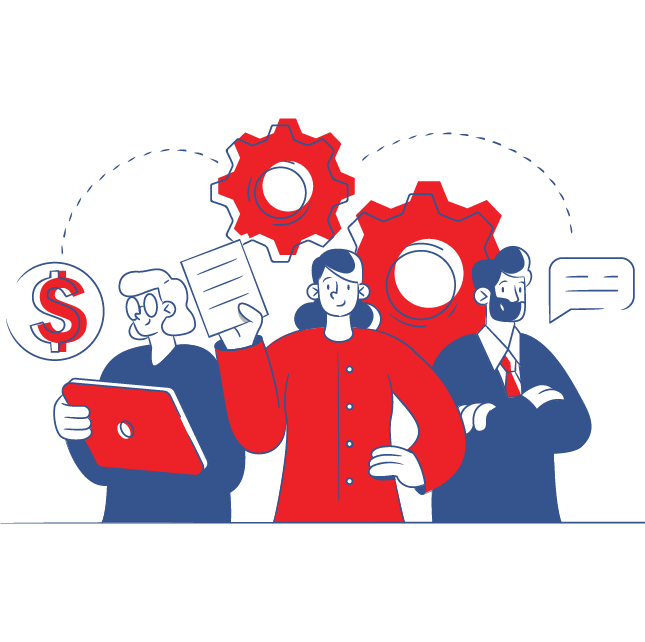 Digital Marketing Surpasses
All the Traditional Marketing Methods!
It may seem that any marketing strategy will work for your automotive business, but that's not true! Every business is unique, and your marketing plans should be tailored to every specific type of business. The Automotive industry is a vicious market where everyone is looking for the most suitable venue to promote in their activities. Digital Marketing is considered as the marketing arsenal for almost all industries nowadays, because it's how you reach your target audience in the smartest way, with the cheapest costs compared to other marketing methodologies. Even the efforts exerted in Digital Marketing is focused and
JUMPPEAK Tames All Digital Marketing Assets
to Be A Surefire to Your Automotive Brand.
Digital solutions replaced traditional methods of planning & promotions in the industry for many reasons that make sense;
01.

Digital Ad campaigns' results can be tracked & measured.

02.

The best promotional possible techniques to place advertisements and can be customized to fit the Auto sector.

03.

Digital marketing costs less and is twice effective as revenue generation.

04.

Digitizing the Auto sector activities is a necessity in a digital era. Digital marketing helps target the exact audience and reach them with the right moves to convert them into potential clients.
How Digital Marketing Can Boost
Your Automotive Brand?
The purchasing journey of a new car takes a long time, may be months, to search all about the suitable car and check the different reviews and price ranges in the market. That's exactly why you should work on your Google first SERP presence. Potential clients should easily get to you. They should find in your page all the answers they're seeking to help them take the purchasing action.
Do You Aspire your Automotive Website Reach the First Result?
Let's JUMP!
When attempting to purchase a new car, your potential clients first search about potential destinations that they may deal with. The better reviews your brand maintains, the more potential clients you get. Also, the more you provide obvious details about your business, the more likely will your customers trust you and find you worthy.
Pay-Per-click ads provide you with the finest target audience you wish to reach via various Digital Marketing platforms. Google PPC has its own advertising platform "Google Ads", unlike Facebook, Twitter, Instagram, LinkedIn, and other platforms, but at last, they all have the same advertising techniques.
PPC is perfect for achieving a number of goals and it's up to you which one (or all) of them you choose to focus on. Do you need to drive phone calls? Are inquiries via website forms your KPI? What about increasing the footfall? Google Ads can track all these details!
It's not a time drain to manage your business via Social Media platforms. All your competitors are tackling your prospect customers all over social media channels and platforms. Building a strong relationship with your audience helps you to stay always in the forefront of their minds, and that is crucial when they manage to settle for a car.
Keep in touch every now & then with your audience, they will promote good word-of-mouth according to your reputation in the market. You can't neglect to be present & active on social media, because it's where you can get new clients. It's where you can find always new opportunities to promote your newly launched products.
How Can JUMPPEAK Reputation Management
Help your Automotive Business?
Reviews & testimonials do really make a solid effective impact on your new potential customers. Everyone tends to trust recommendations rather than trying the new brand -even if it's not new to the market- because actions speak louder than words. Any business should consider the power of word of mouth, as Joe Girad -The Famous Salesman- recommends: The best advertising happens through words of mouth. When someone buys something from you and trusts you, they'd refer you to everyone they know. JUMPPEAK manages your reputation across the market over the omnichannel of your business. We know how to push your old clients to generate fulfilling reviews that convert your potential customers into real clients.
Take Care of Your Business Growth & Leave the Marketing Hustle
with Experienced Automotive Digital Marketing Agency.
Let's Jump

Let's jump now..
We Guarantee to
Increase your Sales Volume
Let's Get in Touch
We're Ready to Start,
Are You?
Egypt
A121 Courtyard, Al Sheikh Zayed , Giza Governorate, Egypt.
Kingdom of Saudi Arabia
Prince Hammoud, Madinat Al Umal, Al Khobar 34443, Saudi Arabia
Al-Tamimi Buildings
Third Floor
Office no. 305
JUMMPEAK